In all our previous trips through Europe, South East Asia, Baltic countries, and South America, we did not spend enough time in any one country to experience the culture, arts, architecture, history, and cuisine. But this time, we gave India an opportunity to show off its brand "Incredible India".
The February 2016 33-day India Trip was more adventurous albeit challenging in India's organized chaos. Once we see past the pollution, garbage, traffic congestion, crowds and food safety, we were stunned by the outrageous beauty and richness of the land, its exotic architecture, and myriad species of flora and fauna that overloaded our senses with pure, concentrated intensity of its colours, smells, tastes, and sounds. Incredible!
Our India Trip was organized by Explore India in Vancouver. In addition to our selected 15-day tour package, we added an extra week in Kaziranga and a week in southwest India after the tour.
The map shows our routing (in chronological order) for the 33-day adventure.
Kaziranga National Park hosts two-thirds of the world's great one-horned rhinoceroses. The park is home to large breeding populations of elephants, wild water buffalos, and swamp deer. Kaziranga is one of the few wild breeding areas outside Africa for multiple species of large cats, such as Bengal Tigers and Leopards. It was declared a Tiger Reserve in 2006 and has the highest density of tigers in the world (1 per 5 square km), with a population of 118.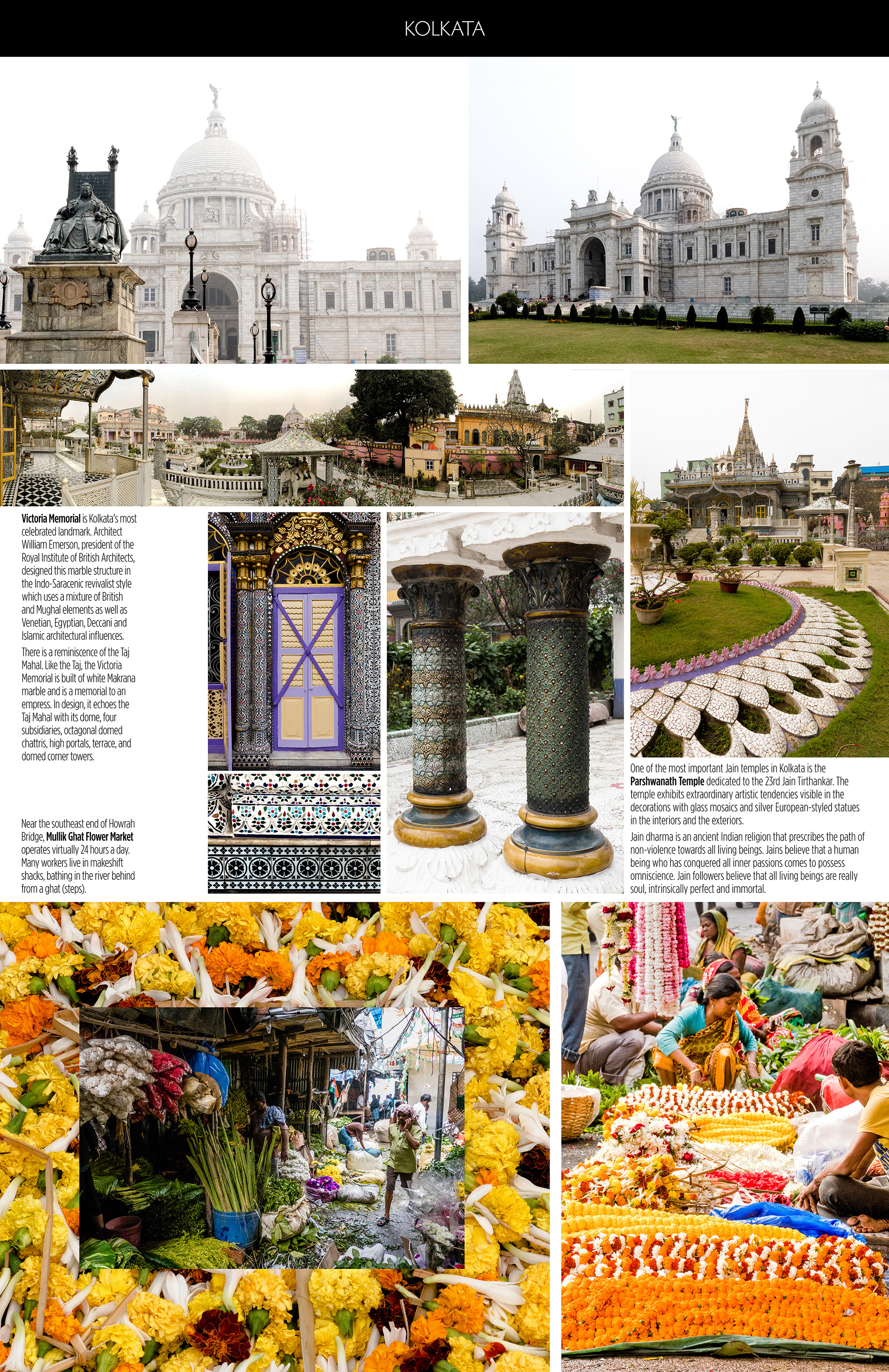 It took us just 2-1/2 hours to fly from Kolkata to Delhi where we met with the rest of our travel group.
This is the first Bahá'í Temple we have visited. We also toured the Bahá'í Temple in Santiago, Chile. Check out the South American Cruise WISITS.
From Delhi to Varanasi was a short flight.
From Varanasi on we were traveling in an air-conditioned comfortable bus.
Wei looks terrific with a turban. Speaking of which, look further down to see how a turban is tied
.
Mumbai is only a 2-hour flight to Kochi
Chinese fishing net serves as the official icon of Kochi and is a testimony of relations between Ancient Chinese Empires and the Kochi Kingdom. The nets were gifts by Chinese Emperor Kubalagi to the Kochi King in the 14th century. There were more than 100, though currently, only a few remain in working condition.
The satellite map below shows netting piers.